A Dark Comedy about Consumption and Capitalism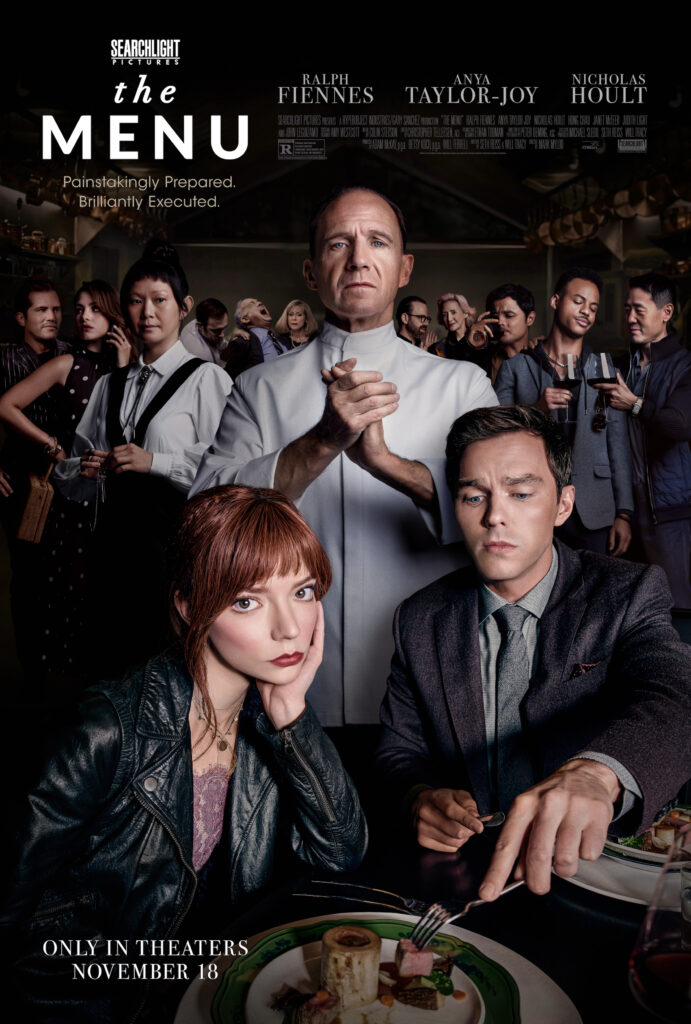 In "The Menu," exactly what the guests are in for is simply too juicy to divulge.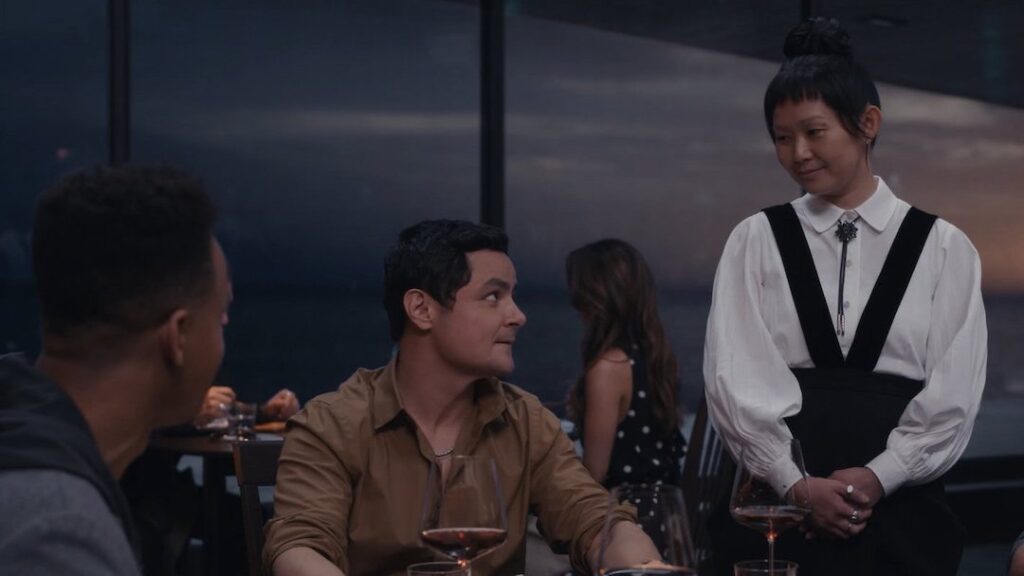 Director Mark Mylod ("Succession") takes the audience on a journey through the eyes of Margot (Anya Taylor-Joy) and Tyler (Nicholas Hoult) to a remote island where dinner guests are fed at Hawthorne, an exclusive prix-fixe menu establishment operated by Chef Julian Slowick (Ralph Fiennes).
In every food establishment, one could argue there are two dances going on: one in the front of the house and one in the kitchen. While the two don't often meet, the open kitchen style of Hawthorne and the unexpected attendance of Margot allows for the dinner to become messier than planned. That performance begins with a greeting from Hawthorne's maitre d' Elsa, played by Hong Chau ("Watchmen," "Downsizing"), at the dock and a tour of the island.
For the viewers and the dinner guests, this devotion becomes unhinged as the film progresses. In addition to Margot and her food-obsessed date Tyler, there is the table of young money tech bros Bryce (Rob Yang), Soren (Arturo Castro), and Dave (Mark St. Cyr), a table with an older couple named Anne and Richard (Judith Light and Reed Birney) who have clearly outworn their marriage, another table of two with the picky food critic Lillian Bloom (Janet McTeer) and her patriarchal magazine editor Ted (Paul Adelstein), and finally, a table seating an out-of-touch movie star (John Leguizamo) with his Ivy-league graduate assistant Felicity (Aimee Carrero). As maitre d', Elsa knows exactly who is supposed to be there and every detail about them in ways that are creepy — e.g., who is hiring an escort and who is evading their taxes.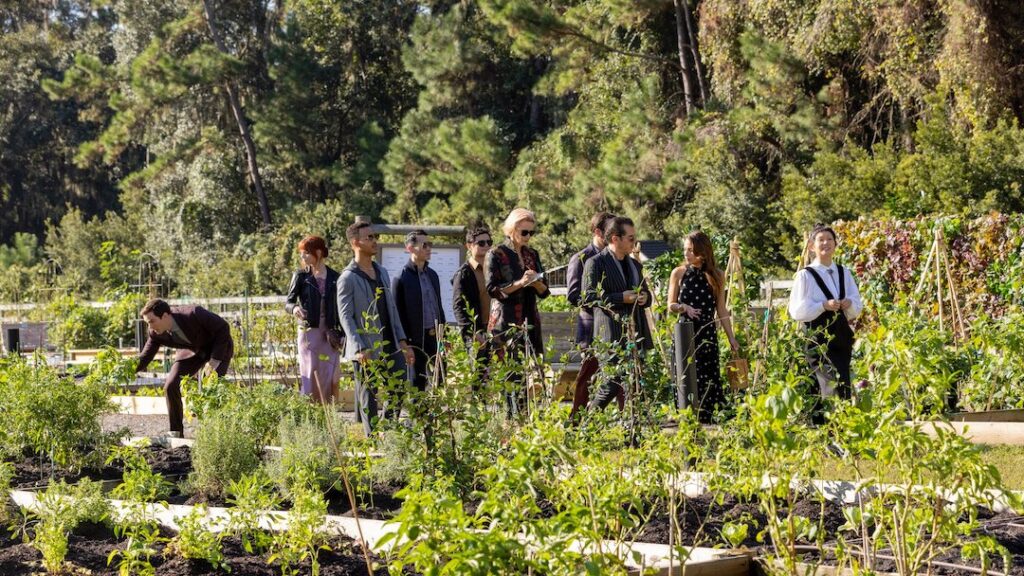 How did Chau prepare for the role? 
Chau, whose breakout role was as a Vietnamese dissident and activist in "Downsizing," admits to Mochi that she has never eaten at a Michelin-starred establishment. Nevertheless, Dominique Crenn — the only female chef to earn a restaurant three Michelin stars — served as the film's advisor and offered Chau quite the compliment. "I had to learn how to fold a napkin, and it surprisingly took much longer to fold the napkin properly than you would think," said Chau. "[Crenn] pulled me aside and said, 'I love what you're doing. I think it's so spot on. And I love how elegant and precise you are. I think you should come and work for me.'"
Why is Elsa dressed like that?
Initially, the team imagined Elsa as simply blending into the background with her being "very plain so as to not stand out at all." The original costume concept was a plain pantsuit as many modern-day hosts wear, different from the kitchen staff and the servers, but nothing that would stand out. Instead, Chau conspired with Amy Westcott to conjure up a stern, almost-Victorian black and white ensemble. (Westcott is also married to director Mark Mylod, so she had his ear.) In every shot in the dining room, you can easily pinpoint Elsa, making it all the more important for Chau to maintain a presence that reverberates through her whole body.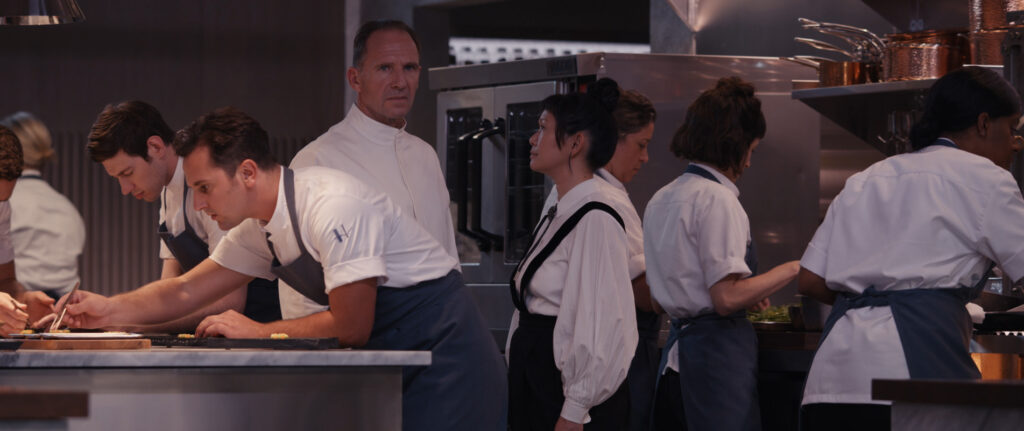 As for Hong, her performance as Elsa is spotless and leaves you hungering for more, but as her character says in the film to a dinner guest asking for bread, "You'll eat less than you desire and more than you deserve."
As an interloper in the world of fine dining, I can tell you that the ambiance and atmosphere captured on film is authentically elegant, picturesque, and lavish while also being accurately stuffy, pompous, and unsatiating — I can't tell you the number of times that I've chased a 10-course prix-fixe with a burger from In-n-Out — with only the added flavoring taking the film over the top. If eating is an act meant to fill oneself and to be done with others, then "The Menu" asks what late-stage capitalism has done to this simple art form through the elitist monster that is fine dining.